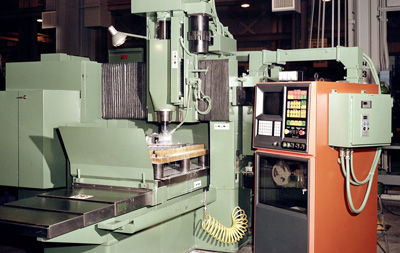 While milling and turning are both cut and shape metal and other solid materials, there's a significant difference between the two.
Milling
A milling machine removes material from a workpiece that's held stationary while rotating cutting tools move around it to shape it into desired dimensions.
Turning (Lathing)
Turning, also known as lathing, involves the use of a stationary cutting tool that removes material from a spinning workpiece that's pressed against the tool to shape it (the workpiece) into desired dimensions. So, the cutting tool does the moving in a milling machine, but remains stationary in a turning machine, or lathe.
Respective Applications
Both milling and turning machines are designed to remove material from a workpiece to create a desired shape or form, and depending on what's being produced, the machinist will choose one method over the other. Milling machines tend to be more versatile, with dozens of attachments and specialty cutting tools. Capable of creating more complex shapes and dimensions than a turning machine (lathe), a milling machine would be used to creating an intricate piece like an auto intake manifold.
Turning is often the preferred method for crafting cylindrical parts. Especially the case when projects require custom cylindrical pieces produced in quantity, turning is fast and more automatic, requiring less operator intervention. An automotive crankshaft would be better made by turning than milling.
Expert Milling and Turning in Everett
If you need custom machining or manufacturing in the western Washington area, contact the milling and turning pros at EDJ Precision Machine in Everett. Serving greater Puget Sound industry for over 40 years, we can provide precision prototyping or low or high volume manufacturing you need.
Precision Milling and Turning From Bellingham to Tacoma
Serving Puget Sound, Everett, Seattle, Bellevue, Tacoma, Bellingham, Marysville, Snohomish, Bothell, Mount Vernon, Lynnwood, Kent, Renton, Federal Way, Auburn, Redmond, Kirkland, Woodinville & Issaquah