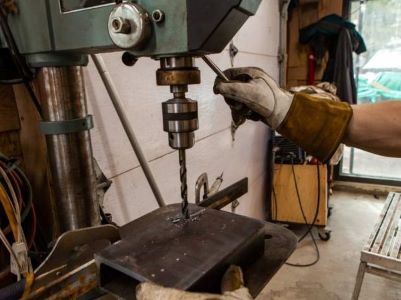 Drilling and boring are two common machining processes. Many people think they're interchangeable. Don't they both entail creating a hole in a piece of metal, wood, or other material? The two processes are indeed similar but have key differences. 
What Is Drilling?
Drilling is the more common of the two terms. It's the process of creating a cylindrical hole, or cavity, using a rotating cutting tool. Drilling may also be used to increase the depth of an existing hole. As long as the drill bit is harder than the material being drilled, you can drill into any surface, including stainless steel. The common handheld power drill comes to mind. However, commercial drilling tools include far more powerful drilling presses and horizontal/vertical milling machines.
What Is Boring?
When boring, the aim is to enlarge the diameter of an existing hole. In this sense, drilling may be done beforehand to create the hole, with the hole then bored to increase the diameter. Aside from increasing hole diameter, boring may also be done to convert a cylindrical hole into a tapered hole. Boring is often done using a number of modern machineries, such as a lathe or a boring mill.
What About Reaming?
Though this post is about drilling and boring, there's also a third similar process known as reaming. A tool called a reamer removes material from an existing hole to smooth out the interior wall. Reaming is done to improve the dimensional accuracy or tolerance level of a drilled hole.
We Perform Precise Drilling and Boring in Everett
We serve various industries and perform drilling and boring to provide precise metal parts. Contact EDJ Precision Machine to acquire custom parts for your place of business. We'll determine whether your personalized part requires drilling, boring, or both.
Drilling and Boring to Precision in Everett
Serving the Puget Sound region including Everett, Seattle, Bellevue, Tacoma, Bellingham, Marysville, Snohomish, Bothell, Mount Vernon, Lynnwood, Kent, Renton, Federal Way, Auburn, Redmond, Kirkland, Woodinville & Issaquah
---
Posted on July 22, 2021 | Published by Ignite Local | Related Local Business